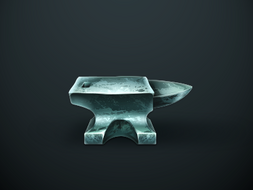 "I met him at the same time as my father. He's been my friend since I was a child." -Faradigm Woodcroft.
Smithy is an animated anvil with the soul of a puppy. He was once the beloved pet of Sly Woodcroft, a magic blacksmith. Since his passing, Smithy has stayed the cherished friend of his adopted daughter, Faradigm.
Trivia
Smithy is one of the few recurring characters belonging to James Fisher, the current DM, first appearing in The Lost Wizards, a Campaign by Declan Ballantine, and reappearing in Monster Hunters, a Campaign by James Fisher.